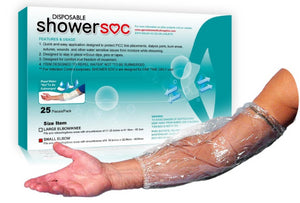 An easy simple solution to showering with a PICC line or OmniPod! Quit wrapping and taping. You deserve better. The Shower Soc TM PICC line shower cover is the answer!  Similar to a shower cap, Shower Soc is a disposable lightweight plastic sleeve that keeps a PICC line dry while showering. Two elastic ends seal to prevent water from entering.  Shower Soc allows you to continue your daily routine with minimal interruption and inconvenience.  Each shower cover is about 12 inches in length.
The Shower Soc  PICC line shower cover is so easy to put on and take off that you'll only need one hand to do so.  Simply slip the water resistant shower cover up over your arm and position in place. Place the top band on the upper third of the bicep and pull the lower band up the forearm to cinch in place. Not submersible. To insure a good seal, do not wear on arm pit area and make sure no excess plastic sleeve is under the elastic ends as leakage may result! 
NOTE:  due to the hygienic nature of this product, opened items are non-refundable.
 Features:
 Keep PICC line dry while showering  

 Easy On, Easy Off.  Stays in place

 Disposable PICC Line Shower Cover

 12" in Length

  Latex Free

  Made in the USA
SIZE CHART
  LARGE            Fits 17-25"  arm circumference       
   SMALL           Fits  9- 16"   arm circumference
PICC Shower Cover - 

Customer Reviews
"This product is so easy to use and worked great in the shower. Being in the medical field, I see a lot of similar products come my way, but nothing like this! Thanks for making such a great, well made product."        M.D.
"This product made taking a shower so easy it was a blessing. I didn't have to call family to tape me up to take a shower, how embarrassing..... Thanks for the dignity."                                                                                 J.P.
"Perfect! Bought a $40.00 PICC Line Cover that didn't work, these were cheap and worked really well. Added a rubber band on each end just to be sure"      T.